Ytel Smart Support Solves 100k Tickets
At Ytel, we take our customer support very seriously. As a customer, if you've interacted with one of our Smart Support agents, you have experienced firsthand the value they bring to our team. Which is why we're very excited to share that this past month, we reached 100,000 solved tickets in Zendesk!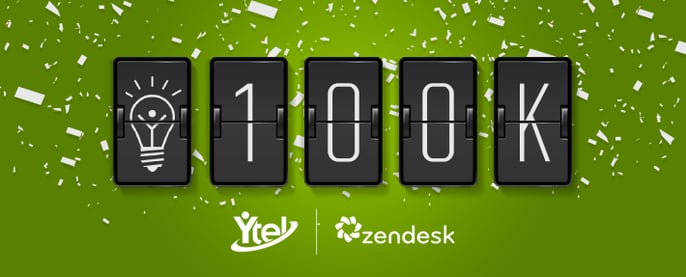 Working with Zendesk, a San Francisco based help-desk software company, has been a huge contributor to our Smart Support team's success. Their software is designed for innovators; the companies who seek out new ways to provide customer service and support.
Using Zendesk has opened many doors for our business; we've contributed to their Community Tips forum and participated in their Annual Community Day in San Francisco last summer. Working with Zendesk has been a great experience for us, and we are proud to use their software to make our business work more efficiently.
Just one more CONGRATULATIONS to our Support team for being an amazing group of individuals who know the Ytel products inside and out, and are always willing and able to support our customers when they need it.
Cheers to another 100k!