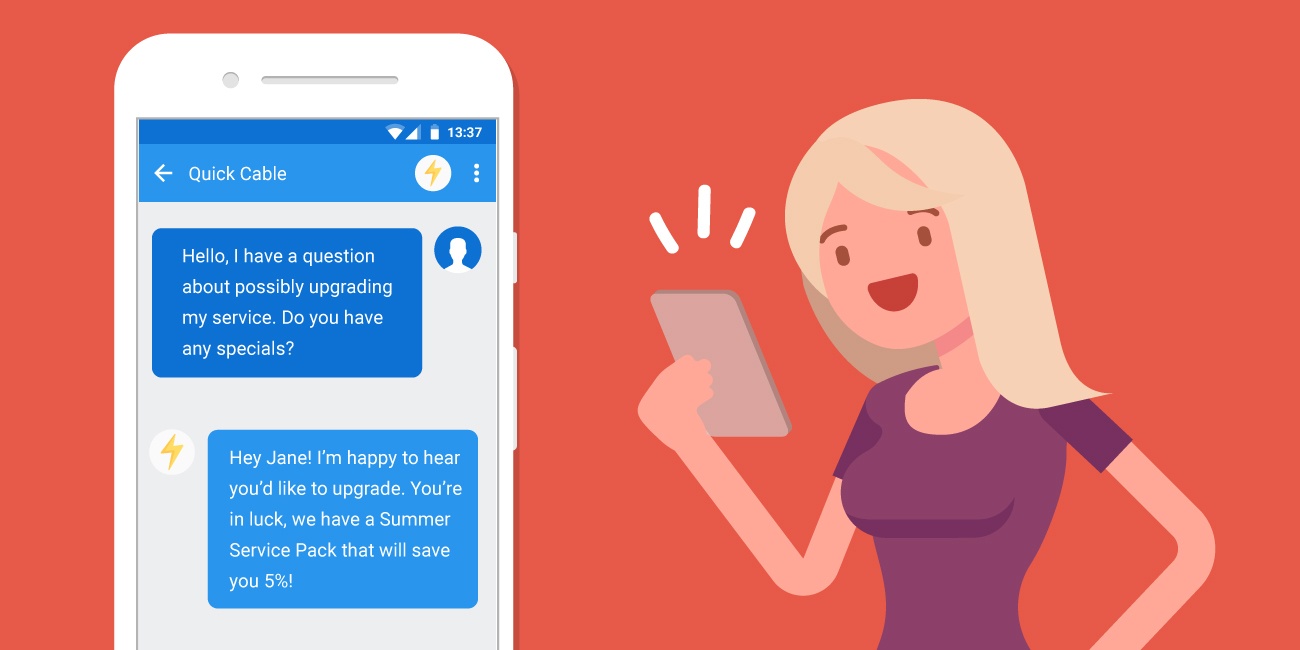 RCS Powers P2A Interactions, Not Just A2P
We've talked a lot about RCS and the benefits it offers for businesses to interact in new ways, but what about the end user? Let's explore how RCS will also serve as person to application (P to A) messaging, not just application to person (A2P).
If you need a catch up on what A2P/ P2A messaging means, look no further! Here's the run down.
A2P means application to person, where an app sends a message to a human. These can vary from marketing messages, appointment reminders, notifications and alerts, polls and surveys, and more.
With P2A (person to application) communication, the customer or user can initiate a conversation and get the resolution they're looking for. From a customer service perspective, it's a new wave of user experience that removes the headache of calling an 800 number for assistance, and makes reaching out for help much smoother.
Let's use Direct TV as an example.

With RCS, these are the kinds of interactions that can occur.
1. Customer: "Hello, I have a question about my bill ending on May 24. Why was I credited a $20 charge?'
2. Direct TV: "Hi Jessica, Andrew here with Direct TV. Thanks for reaching out about your bill. I pulled up your account and saw we overcharged you at set-up last year, so that's where the credit is coming from.'
Direct TV: 'While I have you here, would you like to purchase the UFC fight this weekend? I see on your bill you purchased one a few months ago, so I thought I'd ask.'
3. Customer:'Yes please.'
4. Direct TV: 'Great! Should be a fantastic fight. Would you like me to add this to your monthly statement for August?'
5. Customer: 'That would be great, thanks.'
In this scenario, would Direct TV have otherwise had the opportunity to upsell their customer the UFC fight? Possibly... through an email, mailer, or SMS campaign, but thanks to this P2A interaction, the convenience of RCS is truly felt by the end user, not the business.
Giving the power to the customer by encouraging P2A communication is an unsung benefit of RCS. It increases consumer buy-in for new tech adaption and exposes the user to how they can benefit from new interactions for their own convenience.
Want to stay in the loop on RCS? Download the free eBook below!