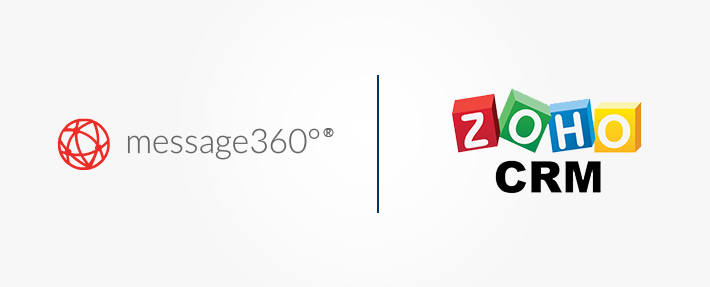 Ytel API Partners with Zoho CRM
About Zoho
Zoho is the operating system for business — a single cloud software platform with all the applications to run an entire business. Over 20 million users across the world rely on Zoho apps. Zoho's productivity and collaboration applications include email hosting, document management, project management and more alongside a host of business applications ranging from CRM and campaign management to customer support, accounting and more.
What does this partnership mean?
Zoho has added the Ytel API (a Cloud Communications API) to their Add-Ons and Integrations marketplace. Now customers can download the message360 extension and integrate text functionality right in the CRM. There is no cost to create a message360 account, and Zoho customers get $10 Free in API Credits.
How will message360 provide multi-channel capabilities to Zoho customers?
"Text is just the first step in building out our partnership with Zoho CRM," said Dee Grover, Ytel API Product Lead. "We are looking forward to adding Voice functionality in the near future."
Found in the Zoho marketplace, the Ytel API extension will allow customers to engage in more personal, two-way, conversations through text messaging. Key features of this extension include:

- The ability to send text messages to contacts
- Creation and management of custom text message templates
- History tracking and scheduling of bulk text message campaigns
"We want our customers to get the most out of Zoho, which is why we launched Zoho Marketplace. Here, businesses can choose from a broad range of powerful extensions that increase the capabilities of Zoho products and help the businesses be more efficient and productive," said Raju Vegesna, chief evangelist of Zoho. "Extensions such as the Ytel API connect seamlessly with Zoho products, ensuring a smooth user experience. We are happy to feature Ytel on Zoho Marketplace, and believe that it would be valuable for our customers."
Click here to view the news release announcing Zoho and Ytel's partnership.