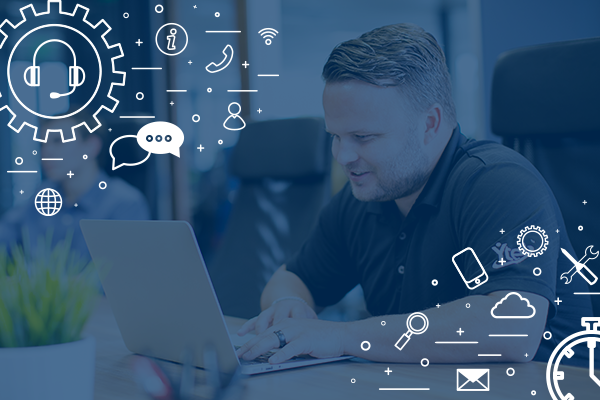 the Gold Standard - Ytel Customer Support
At the end of the day, a company is nothing without its customers. With this in mind, most companies tend to take a customer-focused approach to business, by putting the needs of their customers above all else. Here at Ytel, our award winning support team lives this approach on a daily basis, and we're so proud of their hard work this year!
With an amazing year coming to a close, we wanted to take a moment to recognize a group within our company who knocked it out of the park in 2015; our support team! They have made it their priority to ensure that all our customers are taken care of, and have done an amazing job!
Our Support team's average first reply time to tickets in 2015 was half the industry average! We aren't talking about a few calls here and there. Our team answered 32,875 support calls, solved over 20,937 tickets (a 9.5% increase from 2014), and still managed to have a 98.9% customer satisfaction rating. It's not hard to see why this group is so special! Ryan Ray solved 2,903 tickets over the course of the year, and James Rivas was right behind him with 2,416 tickets solved. The rock star of the group is Patrick Kennedy. In addition to being an Account Manager for 20+ accounts, Patrick solved 1,139 support tickets this year!

One thing that makes our Support team special, aside from the awesome statistical data, is the genuine care and empathy they have for our customers. Every ticket is handled in a personal manner, with an understanding of the effect it has to each customer's success.
"Ytel's Support staff places an emphasis on providing our customers with the best customer service and experience possible. I believe this is why we are a step ahead in our industry. Whether our customers are new to Cloud Contact Center or not, we make it our mission to ensure their experience is smooth," said Patrick Kennedy, Ytel's Director of Support.
Another factor that sets our team apart from the rest is their willingness to go above and beyond for Ytel customers. We look at our solutions as an extension of our customer's business; it's an integral cog in their machine. We want our customers to be successful and we view our systems as a way for them to achieve that success.
"The Ytel support staff and fellow engineers are dedicated, eager, and skilled in maintaining a strong customer relationship. This goes hand in hand with developing systems that pertain to our customer's verticals and requests. We love taking our customer's business to the next level," Patrick said.
Support can be a thankless job. If a customer reaches out to support, they need help with an issue (minor or major) that can be stressful. They need a solution, and a positive interaction, in a timely manner.
So to our support team, from all of us, congratulations on a great year. Thank you for everything that you do and everything that you represent!