SMS marketing made easy for brands
Send SMS marketing campaigns or engage in 1-on-1 conversations. Shortcodes, toll-free and local numbers are available.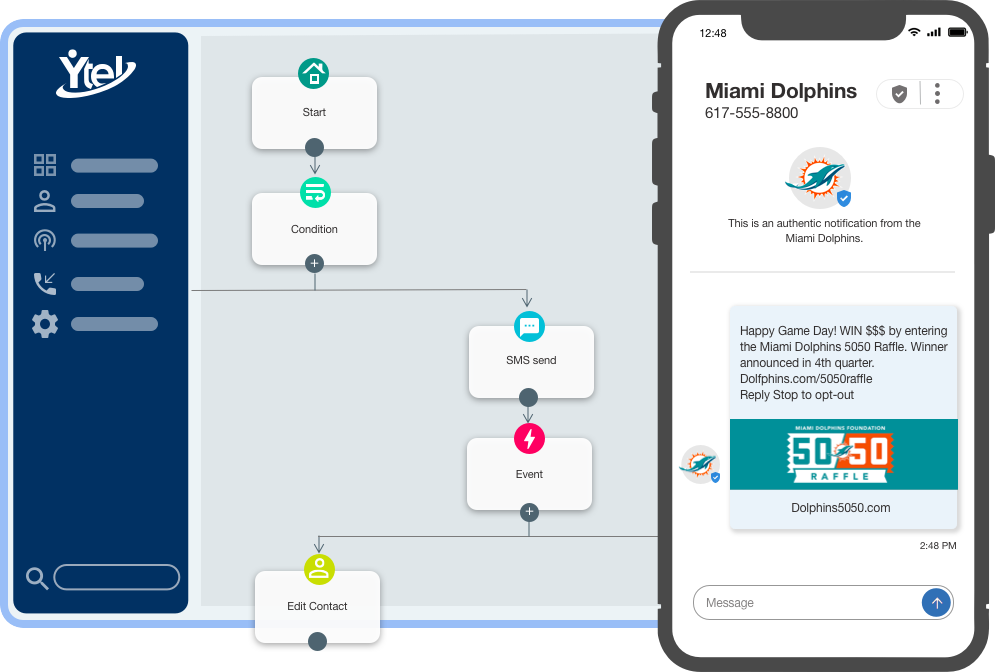 Optimize your SMS marketing campaigns


Open Rates

A 98% open rate means you can be confident your messages gets read


Response Rates

See your response rates increase with Verified SMS by Google


Expert Guidance

Get personal, expert guidance from Ytel's team for optimal delivery
"Since working with Ytel, the ease and accessibility of reaching our fans has been incredible. We have raised over $1,000,000 this season alone from fans in our stadium or at their homes."
"Ytel has been a highly engaged and highly responsive organization and we are very impressed with the efficiency in which they deliver their services to our organization. We are fortunate to partner with them to enhance our business outcomes."
Maximize your response rates with these features:
Texting Campaigns
---
Send a text message to a group of contacts, including photos, and personalize your texts.
Autoresponders
---
Automatically respond and collect data when you receive a text message with a keyword.
Schedule
---
Send text messages at predetermined times or as part of drip campaigns.
Integrations
---
Integrate our SMS marketing platform with your existing CRM or marketing stack.
Verified Sender & 10DLC
---
Register your brand for Toll Free Verified Sender, 10DLC, and Google Verified campaigns
Meme Generation
---
Add dynamic text to an image creating customized personal MMS messages
Reporting
---
Manage your messaging effectiveness with detailed analytics
Workflow
---
Customize your campaigns based on contact conditions, events, and responses
EBOOK
Get our free ebook on how you can level up your text message marketing
Learn how to improve customer engagement with SMS marketing
Got questions? We've got answers!
Here are some of the most common questions we receive. Please reach out if there is more you'd like to discuss.
Can I text enable my existing phone numbers?
Yes, you can text-enable any existing business phone. You can use your current 10-digit number, even if it's a landline or VoIP to receive and send text messages.
What is 10 DLC registration and why does it matter?
10DLC (10-digit long code) registration allows application-to-peer (A2P) SMS traffic over long code phone numbers.

Businesses must register their numbers and the campaigns for which they use them with their carriers. Registration lets carriers know who's sending messages and what kinds of messages are being sent, so they can protect end users from spam and unwanted messages. Contact us today and we can help you get registered.
I just bought a list of leads, can I text message them?
According to the Telephone Consumer Protection Act (TCPA), customers must give businesses "express written consent" before the business sends them automated promotional text messages. So among other things, you must ensure you have express written consent before sending text messages.
What is a DID?
Direct Inward Dialing (DID) is a telephone service that allows a phone number to ring directly to a specific phone at a business instead of going to a menu or a queue and needing to dial an extension. A phone number that is used like this is often called a "DID" (and multiple numbers are called "DIDs").
Get notified on new industry insights
Be the first to know about new communication insights to build or refine your business strategies with the tools and knowledge of today's industry.