Webphone
Branded calling and texting with an easy-to-use webphone. You can even embed it with your CRM!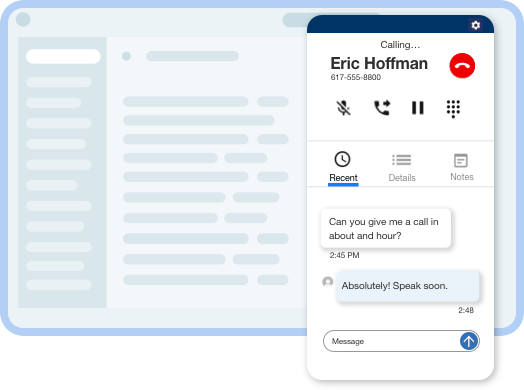 Easily add calling and texting
Do your users want modern communication tools within your application? We've made it easy

Low-Code

With just a few lines of code, embeddable tools are added into your platform using simple javascript libraries.

All-in-One

Call, text, create calling lists, and more—all within one webphone.
Integrated
Easily sync contact and communication data with your CRM.
EBOOK
Get our free ebook on how you can increase your answer rates with Branded Caller ID
Learn how to improve your answer rates
Features your users will ❤️
---
Increase your answer rates by displaying your company name, logo, and reason for calling
Calling
---
High-quality voice calls directly from the browser
Inbound Call
---
Receive inbound calls to the webphone with custom notifications, find-me/follow-me, & voicemail options
Click-2-Call
---
Click-2-Call any number to place an outbound call and log it in the CRM
List Calling
---
Push or upload contacts to the webphone for live list Click-2-Call also known as Human Selection Calling
Call Control
---
Transfer calls via 3-way, Blind, & Hold xfer options; Put callers on hold & mute options
Voicemail
---
Listen to voicemails with a click of a button. Transcribe, Download, or email them easily
Integration
---
Simplify managing contacts by integrating directly with the crm and logging call & sms data including recordings
Status & Presence
---
Know what your co-workers are up to and avoid interrupting a meeting or dead end call transfers
Texting
---
Send and receive text messages directly from the webphone with full conversation history
Chat
---
Chat with internal team members and get the answers you need in real-time
Reporting
---
Users can view their communication statistics for the day, week, and month
What exactly is a Webphone?
A webphone is a telephone that can be used through a web browser. Webphones are becoming increasingly popular, as they offer a number of advantages over traditional phone systems. Perhaps the most obvious benefit of using a webphone is that it can be used from anywhere in the world, as long as there is an internet connection. This makes them ideal for businesses with employees who work remotely or who frequently travel. Webphones can also be integrated into CRM software, making it easy to keep track of customer calls and interactions. In addition, webphones often come with a range of features such as call recording and voicemail, which can be beneficial for businesses.
Why should I add a Webphone to my CRM?
Webphones are an essential tool for businesses that want to improve customer satisfaction and increase sales. Webphones allow customers to reach a business directly from their web browser, without having to download any software or make a phone call. This can be a major advantage for businesses that want to provide excellent customer service, as it eliminates the need for customers to wait on hold or be transferred to different departments. In addition, webphones can also be integrated into a CRM system, allowing businesses to track and manage customer interactions more effectively. As a result, adding a webphone to your CRM can help you boost sales and improve customer satisfaction.
Can I use the Webphone stand-alone?
Yes! The Ytel platform can also operate completely stand-alone! You can manage contacts, Call Routing, list calling, send sms and more right from the platform. No integration needed.
How do I embed the Webphone in my CRM?
We are glad you asked! There is a reason why top CRMs use pre-built, embedded tools, and fortunately it's pretty easy. Just follow our guide on installing the webphone javascript library and adding our webphone to your CRM. It's time to take your CRM offering to the next level!
What is human selection calling?
Human selection calling is a brand new technology powered by human initiation. Think of it as the modern way of picking up the phone to contact someone. Simply select the contacts you wish to reach out to based on the criteria you choose and run them through the standard compliance criteria such as Prior Express Written Consent (PEWC), Existing Business Relationship (EBR), DNC, Contact Time Protection and more, THEN click on a contact in the live list to place a call or an sms.
Can we field inbound calls?
Absolutely! Every Webphone has a dedicated phone number assigned to the user. If the user wishes to receive inbound calls toggle inbound on, if the user is busy or unavailable the calls will go to a personalized user voicemail. Need advanced skills based routing and IVR? We have that too!
Get notified on new industry insights
Be the first to know about new communication insights to build or refine your business strategies with the tools and knowledge of today's industry.