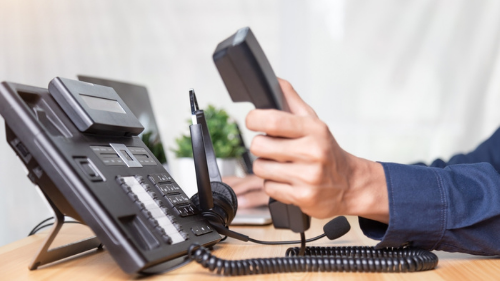 Why You Should Upgrade Your Business Phone System to UCaaS
Were you aware that upgrading your business phone system to UCaaS (unified communications as a service) provides bonus benefits to your business? Not only do you get the latest advanced network technology but also ultra-convenient UCaaS tools and apps that enable comprehensive communication with your customers – and remote employees.
UCaaS Features Help You Stay In Touch
UCaaS offers many convenient ways of communicating with your customers and provides a way for remote workers to stay effectively connected – wherever they are. Some of the most common tools and apps include:
Video & audio conferencing – Allows for easy scheduling of video or audio meetings with dedicated conference rooms.
Mobile app – Empowers your employees to communicate on the go.
Desktop calling – Workers can easily make and receive calls from their desktop, facilitating easier remote work.
SMS texting – Enables your customers to text your business phone for instant communication.
Instant messaging – Provides an alternative means of real-time communication from desktop computers, laptops, and tablets without need for a phone.
Chat – Another alternative communication channel that works on phones, tablets, or computers.
Push notification services – Sends alerts to all of your devices for upcoming appointments, calls, meetings, etc.
A good UCaaS provider offers a solution that easily integrates with your existing systems and applications, like your CRM, giving you a truly unified platform that enhances productivity.
UCaaS Can Help Drive Business and Grow Your Bottom Line
These advanced communication tools increase productivity and enable faster decision making, which is especially valuable to companies with field employees and remote/hybrid workers. The only requirement necessary for these tools to work is a good connection to the internet, and boom – you're in business.
Best of all, UCaaS tools don't require a sizable capital expense. They also tend to lower the total cost of ownership by combining voice and data applications over the same system, which reduces the cost of on-site communications infrastructure.1
Because of these advantages, demand from small- and medium-size businesses is fueling the growth of the UCaaS market on an average of 10% annually. This growth is attributed to businesses that realize significant productivity increases and cost savings, which also aids in the growth of these organizations' bottom lines.
Here are a few examples of how UCaaS tools can help move your business forward:
Mobility – UCaaS tools help expand the reach of your employees' mobile capabilities, enabling more effective communications and increasing sales.
Technology – UCaaS tools require no additional hardware or software to work, and upgrades ensure continued innovation to aid overall business growth.
Scalability

– UCaaS tools can be scaled to match the growth of your business as new users can easily be added and features updated as needed.
Are You Ready to Upgrade Your Phone System?
If your business is ready for an upgrade, contact us today. We'll analyze your current phone system and recommend the perfect cloud-based solution that will drive your business forward with the best UCaaS tools and apps.
Sources cited:
https://www.xaasjournal.com/capitalize-on-the-growing-ucaas-demand/