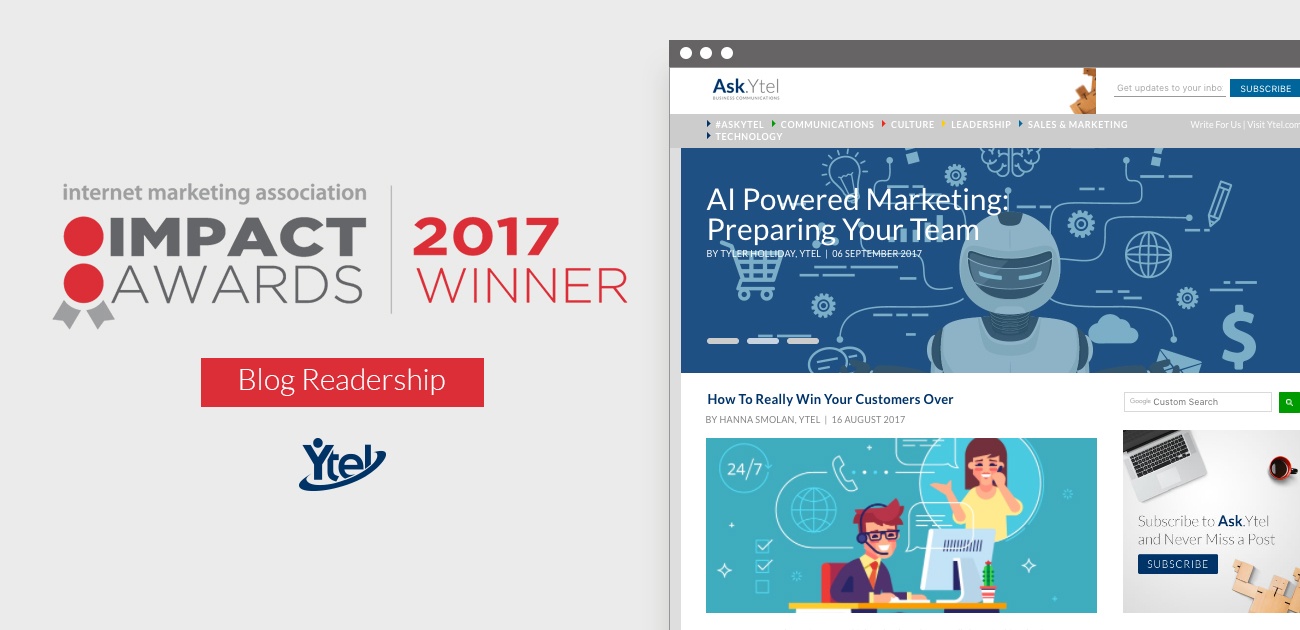 Ytel Receives Blog Honors at IMPACT 2017
We're excited to share Ytel has been awarded Blog Readership Honors at the IMPACT 2017 Awards, helped by the Internet Marketing Association!
The IMPACT Awards exemplify best-in-class creativity, expertise and results achieved by the top practitioners of Internet Marketing across every business segment. The Ask.Ytel blog was nominated, reviewed and crowned winner!
The Ask.Ytel blog has come a long way since we first launched in 2015. We are excited to celebrate our content and readership engagement at IMPACT17 this year in Las Vegas, Nevada.
The Ask.Ytel blog was created with the goal of crafting engaging posts that can interest anyone, regardless of what field or industry they are in. Our hope is that anyone can visit the blog and learn something new. With 5 different topics in mind; Ask.Ytel (in-house updates), communications, culture, leadership, sales & marketing and technology, we strive to appeal to any working person in today's day and age. We are very excited that the Ytel blog has been recognized as a thought leader within the Internet Marketing Association.
Headed to IMPACT17 this year? Click here to schedule a meeting with us!
What is IMA?
The Internet Marketing Association is one of the fastest growing professional organizations in the world and encompasses a wide range of educated professionals in sales, marketing, business ownership, programming, creative development and related fields.