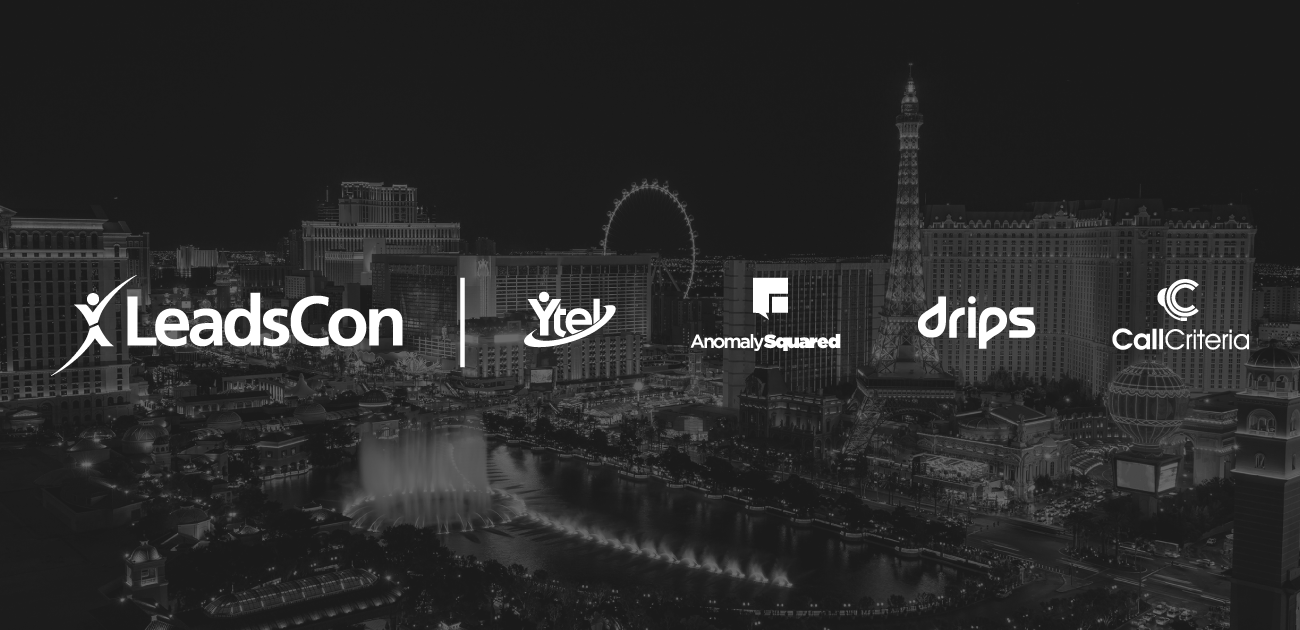 The Contact Partners at LeadsCon 2017
This year at LeadsCon, Ytel flipped the script! Instead of having a big, beautiful booth to ourselves, we decided to join forces with some of our partners to take the show to the next level, and amp up our competitive edge. The goal was to give LeadsCon attendees a booth to stop by, that would have all the answers to their call center challenges. Whether it was call quality, lead follow up, call center tools or BPO services, the Contact Partners had it!
What's the idea behind the Contact Partners?
We're a team of businesses with a unique offering: between the four of us, we can power all the communication services a business needs, in virtually any industry.
The idea behind the Contact Partners was born from a simple blog post. Drips, a customer/ partner, authored a guest post on the Ytel blog, and it was one of the most successful posts to date, in terms of unique impressions, engagement and clicks back to Drips' website. It got us thinking, how else can we leverage this content? Are there other opportunities here we're missing? What else can we do with Drips, and other partners that we love working with, that can be beneficial for both of us?
I suggested the idea of teaming up at a trade show with a few other trusted companies. With LeadsCon on the horizon, and with three great businesses in mind, we arranged a call and pitched the idea. Fortunately, all three companies were completely on board and felt like their previous trade show experiences had been missing a valuable offering from a high level.
Who are the Contact Partners?
Our goal at LeadsCon was to provide the full trade show experience and give that special taste of Vegas, too. Our booth was located in the center of the showroom floor, the largest in the room. Each Contact Partner had their own dedicated space to give product demos, answer questions and network. In the center of the booth was a spacious lounge area, complete with an exclusive bar, hosted by one of Vegas' finest, Barry, inviting visitors to grab a drink, relax for a minute, while networking with the Contact Partners and other visitors at the booth.
We took the time to get to know one another's products, solutions, and goals at the show in order to set each other up for success. There were countless situations where a customer needed a solution that one of us provided, got their questions answered and exchanged information; only to meet with another Contact Partner through casual conversation to discover another way their businesses could work together. I can confidently say each partner walked away from LeadsCon feeling more than satisfied with the way the week went in terms of contacts, leads, and deals on the table.
This kind of symbiotic relationship is one that I've always believed in; doing business with friends you trust is easy (as it should be!) and I look forward to many more events with our partners in the coming months.
What's next for the Contact Partners?
As perfect as the name was for LeadsCon, that was simply Phase 1. We're thinking even bigger for the future. At Ytel, we're passionate about the connections we make with our customers, partners and friends. It's the way I built this business and the way we work within our teams each day. We're focused on taking those connections and building something powerful and valuable.

That being said, the Connect Partners is the exciting Phase 2.

We've created a tailored program from 4 pillars that will support our Connect Partners with marketing resources based on their specific business goals. We're prepping for many exciting new projects together, gearing up for exclusive members-only LinkedIn for collaboration and planning, and much more. Interested in joining this private group? Connect with me on LinkedIn and I'll be happy to add you.
This is just the beginning for the Connect Partners. Hope you're ready for the ride!