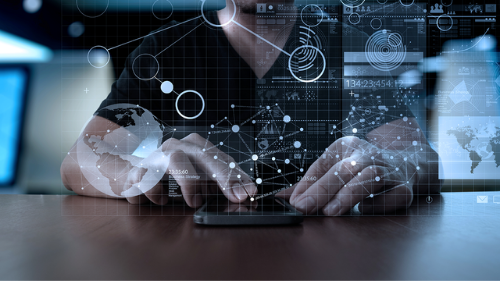 STIR/SHAKEN: Combating Spoofed Calls
How
The FCC has adopted rules requiring service providers to deploy a STIR/SHAKEN solution by June 30, 2021.
How Will Caller ID Authentication Help Consumers?

Caller ID authentication technology enables subscribers to trust that callers are who they say they are, reducing the effectiveness of fraudulently spoofed calls. This technology is critical to protecting consumers from scams using spoofed robocalls because it erodes the ability of callers to illegally spoof a caller ID, which scammers use to trick Americans into answering their phones when they shouldn't. The STIR/SHAKEN framework, an industry-standard caller ID authentication technology, is a set of technical standards and protocols that allow for the authentication and verification of caller ID information for calls carried over Internet Protocol (IP) networks. As implementation continues to progress, it will give Americans more confidence that the caller ID information they receive is accurate and will allow voice service providers to provide helpful information to their consumers about which calls to answer. - Federal Communications Commission


What Role does Ytel play in Authentication and signing/certifying calls?

Ytel is a Carrier with an STI/PA certificate from the governing authority to verify and sign calls. Our goal is to sign all calls with an A - attestation. Attestation levels are governed by knowing the originator of calls and Caller ID ownership. Every customer that purchases phone numbers (DIDs) from Ytel and sends voice phone calls through the Ytel network will receive an A attestation to the final end point. Simply put, if you are a Ytel customer and you purchase Ytel telephone numbers, your calls will be delivered with an A attestation preventing possible blocking due to Attestation signing.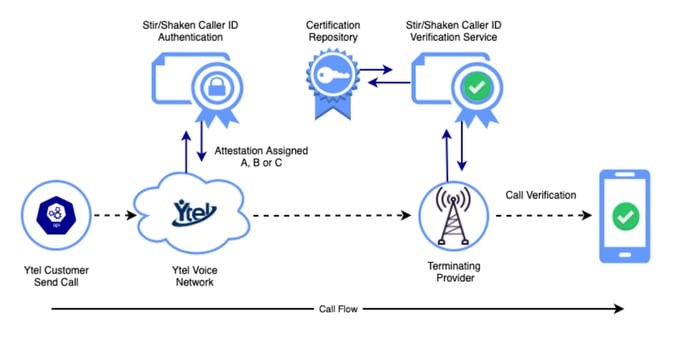 What Does STIR/SHAKEN Mean?

STIR/SHAKEN is a framework of interconnected standards. STIR/SHAKEN are acronyms for the Secure Telephone Identity Revisited (STIR) and Signature-based Handling of Asserted Information Using toKENs (SHAKEN) standards. This means that calls traveling through interconnected phone networks would have their caller ID "signed" as legitimate by originating carriers and validated by other carriers before reaching consumers. STIR/SHAKEN digitally validates the handoff of phone calls passing through the complex web of networks, allowing the phone company of the consumer receiving the call to verify that a call is in fact from the number displayed on Caller ID.


Attestation Level
Description
Example
A (Full Attestation)
The calling party number has been authenticated and is authorized to use the calling number.
A call is being placed through the Ytel Network using a number provided by Ytel.
B (Partial Attestation)
The calling source has been authenticated, but the call party number has not.
A Ytel Customer is placing a call through the Ytel network with a Caller ID provided to them by another Carrier, or forwarding a call using the end user's Caller ID.
C (Gateway Attestation)
The gateway sending traffic has been authenticated, but the source or calling party number has not.

The gateway sending traffic has been authenticated, but the source or calling party number has not.The gateway sending traffic has been authenticated, but the source or calling party number has not.The gateway sending traffic has been authenticated, but the source or calling party number has not.

SIP Trunking customers provided numbers to their customers, and are not doing their own call signing.
FAQs

Q: What do I need to do to prepare for Stir/Shaken?
A: All the STIR/SHAKEN configurations are handled by Ytel's platform, so there are no changes that need to be made to place calls with Ytel.

Q: How will STIR/SHAKEN affect my call delivery?
A: If you are placing calls on the Ytel network, and you are using Ytel Provided DID as a caller ID, your calls will receive an A attestation and pass through to the mobile carrier networks without blocking. If your caller ID is any number other than a Ytel provided DID, your attestation will be a B or C, and may be redirected or blocked.

Q: STIR/SHAKEN vs Spam Likely?
A: STIR/SHAKEN caller ID attestation is used in the routing of the call through the mobile carrier networks, Once the call has been routed to the handset, applications such as Third party call blocking apps or vendor apps, are outside the stir/shaken protocol and calls can still be identified as spam likely and blocked accordingly.

Q: Does this mean my business name will show up as the Caller ID whenever I call someone?
A: When the FCC talks about Caller ID, they are referencing the action of Caller ID authentication technology. The Caller ID that displays on inbound phone calls is not governed by STIR/SHAKEN. A great way to have your company name show up on a call is to request Ytel to register your DIDs in the CNAM Database. In addition to CNAM registration, you can also have your number Verified, read more about Verified Calls on our website.
As always, we're here to help support you and your business. If you have any questions on the information presented here, please feel free to open a chat by clicking the icon in the lower right corner. Our Customer Support team is available weekdays 6-6 Pacific.